Book Sizes
A-format - Generally a UK term.  Standard book format (TPS = 178 x 111mm or 7 1/64 x 4 3/8 inches), typically used for most small-format paperbacks.
B-format - Generally a UK term.  Standard book format (TPS = 197 x 130mm or 7 3/4 x 5 1/8 inches), slightly larger than A-format, typically used for more upmarket or literary paperbacks.
C-format - Generally a UK term. Mostly a large-format paperback, though there's no universal agreement on exact size (commonly it's Royal-sized, though it often means (TPS = 216 x 159mm or 8 1/2 x 6 17/64 inches).
Demy - (occasionally Demi) A standard book format (TPS = 216 x 135mm or 8 1/2 x 5 5/16 inches), usually hardback, often used for library edition hardbacks and more literary hardback fiction (cf trade paperback). Slightly smaller than the more common Royal format. Pronounced as in 'deny'.
Mass Market - Generally a US term but is increasingly applied to A-format paperbacks in the UK.  Small-format paperback edition of a book, usually commercial fiction, intended to sell in large numbers (TPS = 171mm x 105mm or 6 3/4 x 4 1/8 inches).  Slightly shorter and narrower than an A-format.
Rack size - US equivalent of A-format but slightly taller and narrower. Can also be termed mass market paperbacks. Usually (TPS = 197 x 106mm or 7 3/4 x 4 11/64 inches).
Royal - A standard book format (TPS = 234 x 153mm or 9 7/32 x 6 1/32 inches), usually hardback, used for most hardback fiction and general non-fiction. Slightly larger than Demy size. See also trade paperback.
Trade Paperback (TPB) - A large-format paperback, usually Royal or Demy size. In fiction publishing, a trade paperback version is often published after the hardback but before the main mass market paperback version. In Australia, a trade paperback is often published instead of a hardback. US: trade paperback is often used to mean what in the UK would be a B-format paperback, and contrasts with an rack-sized mass-market edition.
Book Condition Guidelines
New - Brand New Book. Never read.
Excellent - Used Book with nil or few minor defects or faults.
Very Good - Used Book showing some signs of wear. Minor creasing to spine.
Good - The average used book that is totally complete and intact. May have moderate creasing to spine. May have a remainder mark, bumped, minor tape repair and foxing
Fair - A worn used book that has complete text pages (including those with maps or plates) but may lack endpapers, half-title page, etc. May have substantial creasing to spine, remainder mark, bumped, tape repairs and foxing. May be ex-library.
Reading Copy - A used book that is sufficiently worn that its only merit is the complete text, which must be legible. May be soiled, scuffed, stained, spotted or bumped and may have loose  joints, hinges, pages, etc.  May be ex-library.
Please note that the images used on our site are intended as a guide only. Publishers can have various cover designs for each ISBN so images can change without notification.  Whilst we make every effort to show the correct cover design we are unable to guarantee the cover image that arrives from our suppliers.  If ordering a particular cover is important to you then please contact us for confirmation.  In particular, used books listed on this site may have minor blemishes on the cover that are obviously not depicted in the stock image of the listing. Please refer to the Book Condition Guidelines above when considering your purchase.  Please contact us if you are unsure.
Other Book Terms
Anthology - A collection of literary works which may be poems, short stories, plays, songs or excerpts generally by multiple authors.
Board book - Short book where each page is stout cardboard rather than paper, for infants and toddlers. See also rag book.
Book Plate - An ownership label, usually placed inside front cover. Many have become collectible due to the designer or owner; others actually lower the value of books printed in the last 50 or so years, especially book plates that can be purchased in batches of 50 or 100 and a space left for the owner's name to be penciled or inked-in.
Bumped - Refers to the corners or spine ends of a book that has been damaged by being dropped or carelessly handled or shelved.
Chapbook - Small, inexpensive books produced from the 17th century until today, originally sold by "chapmen", peddlers, and hawkers. Contents usually of a popular, sensational, juvenile, or moral / educational character.
Chapter Book - Fairly modern term referring to books for older children which are organized into chapters, as opposed to "picture books", which often are not.
Chipped - Small pieces broken off of a dust jacket or binding.
Closed Tear - A tear with no material missing. It could also mean a tear repaired and closed with Japanese tissue or other such type of paper used for page repairs in the trade.
Cocked - If, when looking down on the head of a book, the corners are not square it is said to be cocked or rolled. Also known as a spine slant. (Note: cocking can also involve a book's spine being slightly twisted or non-vertical at either end that is not severe enough to cause spine slant.)
Dampstain - A stain left on a cover or pages after having been exposed to water.
Ding - A small bump or dent leaving an impression, sometimes caused by careless handling or storage.
Dog-Eared - Worn or ragged, usually referring to the edges of pages. Corners of pages are turned down like a dog's ear, often to mark one's place while reading.
Edition - A group of books printed without changes to the content (originally from a single set of printing plates). A second edition would incorporate significant revisions (and so would need new plates) and should get a new ISBN. Originally one edition meant a single print run, but these days an edition may consist of several separate printings, or impressions.
Ex-Library - (EXLIB) Deaccessioned from a Public Library or Collection.
Ex-Libris - From a private library, as opposed to a public library. Could also indicate a bookplate or a stamp.
Foxing - A term describing the age-related spots and browning seen on paper. Although it is a bit unsightly, foxing does not affect the actual integrity of the paper.
Hardcover or Hardback (HC, HB) - A book whose case is made of stiff boards, as opposed to wrappers.
Impression - A single print run of a book, as in 'third impression', the third batch of copies to be printed and bound. The impression number is usually marked on the copyright/imprint page, often with a sequence of numbers such as '4 6 8 10 9 7 5 3', where the lowest number indicates the impression (in this case, the third). All books in an impression are manufactured at the same time and are identical. There can be several impressions in an edition, all sharing the same ISBN.
Inscription - When an author or someone associated with the book signs and/or handwrites a dedication, etc.  e.g. "To my beloved Elizabeth, John Steinbeck"
ISBN - International Standard Book Number. Unique identifier for a book, or more specifically, of a tradeable item within the book trade. A different ISBN is required not only for each title (or work), but for each edition and binding (or manifestation) eg hardback, paperback, revised second edition all need different ISBNs. Different impressions, however, share the same ISBN. The first element (number) in a 10-digit ISBN or the second element (the number/s after the 978 or 979) in a 13-digit ISBN is the Identifier Group which is assigned to mark either a publisher's place of business or the language used for the book.  It is handy to know about this identifier so you don't buy a foreign language book by accident sight unseen.  The english language identifier is almost always a '0' or a '1' (e.g. 0-330-28498-3 or 978-0-330-28498-1).  Sometimes the book can be in english language with another country identifier such as '81'  for India but the listing should always advise that it is english language in these cases. The second element in a 10-digit ISBN or the third element in a 13-digit ISBN is the Publisher Code (e.g. 0-330-28498-3 or 978-0-330-28498-1) which is unique to a specific publisher.  It can be from 1 up to 7 digits with the title number making up the remainder of the ISBN except for the very last digit.  You can search the Global Register of Publishers with the Publisher Code or Name of the Publisher to find more details.  The very last digit in the ISBN is a check digit and is a form of redundancy check used for error detection, the decimal equivalent to a binary 'check bit'.  The ISBN Agency responsible for issuing ISBN numbers for Australia is Thorpe-Bowker.
ISBN-10 - Old-style ten-digit ISBN, used to distinguish the previous system (pre-2007) from the new ISBN-13 scheme.
ISBN-13 - Revamp of the ISBN numbering system introduced in January 2007, where the old-style ISBN-10 has been replaced with 13 digits, the new scheme is called ISBN-13 and starts with 978 or 979.
Loose - When a book has been read carelessly or too often, and has become loose and sloppy in its binding.
Omnibus Edition - Book containing more than one work by the same author.  Commonly two or more components have been previously published as separate books.
Open Tear - A tear that may have some material missing.
Out-of-Print (OP, OOP) - A book no longer available from the publisher. It is no longer being printed and no new copies remain available for sale.
Paperback (PPB, PB) or Softcover - A book bound with flexible paper covers; usually a term reserved for mass-market publications.
Print on Demand (POD) - A process in which copies of a book are not printed until an order has been received, allowing books to be printed singly or in small quantities of between 1 to about 200 copies.
Rag book - Short book for infants and toddlers, where each page is printed on textile rather than paper. See also board book.
Reading Crease - A crease down the spine of a book (usually a paperback).
Recto - A right-hand page, when a book is open and facing the reader. The other side of the recto is the Verso.
Remainder - These books have been liquidated by the publisher at greatly reduced prices.  Copies of remaindered books are marked by the publisher or distibutor and have varied over the years.  Today most remainders are marked with a stroke with a felt-tipped marker across the top or bottom of the book's pages near the spine. 
Rubbed - Where color has been worn from portions of the binding or dust jacket. It is also used to indicate rubbed cloth covering the boards to the point where the material of which the boards are made is showing through.
Slipcase (SLC) - A box built to house and protect a book, leaving the spine exposed.
Spine - The backbone, or back, of the book where the title (if present) is displayed when it is standing upright on a shelf.
Sticker Damage - A price sticker has been roughly removed resulting in surface damage to the underlying material.
Sunned - Browning, yellowing, or fading of paper, dustjacket or binding as a result of sun exposure.
Tape Residue - Complications of cellophane tape that remains on the paper or a book's cover, resulting in brown stains or bits of tape adhering to paper.
TPS - Trimmed page size (also trim size and trimmed leaf size). The outer dimensions of a page of a finished book, so for A-format, 178 x 111mm.
Uncorrected Book Proof - Bound together with a thick paper cover, usually for promotion or publicity purposes.  Book proofs are generally uncorrected.  If largely corrected they are referred to as advance copies.
Verso - The left page of an open book, when it is open and facing the reader. The back of a leaf. Also called the reverse.
This information was mostly obtained from the Glossary of Book Publishing Terms at Harper Collins UK or from the book terminology of the Independent Online Booksellers Association
Helpful Links
First Editions - This link opens up the First Edition Points fedpo.com website on a new window for you. Learn all about how to spot a first editon.
Anatomy of a Book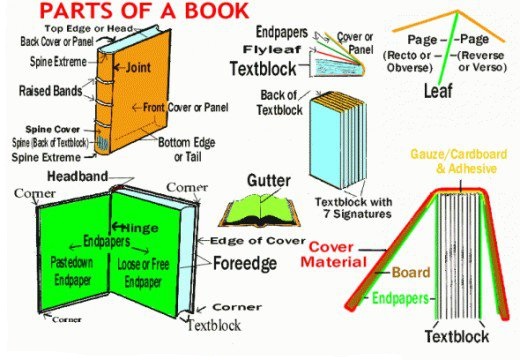 Backstrip - (Sometimes used as a synonym to Spine) A strip used by binder to reinforce the back of folded sheets in the binding of the spine.
Binding - Material used as a protective cover for a book (e.g.: leather, cloth, buckram, paper, etc.)
Book Block or Text block – The block of internal pages that make up the book.
Book Cover or Book Board - The front and back covers of books are often referred to as book covers or book boards or book panels as they are often made of bookbinding board and cover the book, today typically a cardboard base covered with cloth, paper, or leather.
Dust Jacket or Dust Wrapper or Book Jacket (DJ, DW) - First used during the 19th century, the original purpose of the dust jacket was to protect the cover of books from scratches and dust which could have been made from fine leather, linen cloth, silk or other expensive materials.  It wasn't until after World War I when booksellers and publishers realised the correlation between well designed book cover jackets and book sales, during this time an explosion of book cover designs hit the market.  Found only on hardcover books, the dust jacket will normally be made from paper or plastic (or plastic covered paper) with the ends of which wrapped inside the book cover.
Edges – The edges of the leaves and the textblock as a whole.  The three outer sides of the text block when a book is closed: fore-edge, top edge or head, and bottom edge or foot.
On more expensive books you will likely find the fore edge has been painted with a hidden painting (known as foredge painting or art) or has gilt edges (smoothed and painted, normally with gold leaf or gold paint).
End Paper (End Sheets) – Endpapers are the first and last pages of the book which which glued to the cover boards (front and back). Often these end papers will be of heavier weight and decoratively patterned often marbled with a cloth hinge for reinforcement. Often referred to as a pastedown or end sheets; paste-down is the page which has been glued to the board and the other side is known as a free endpaper
Other than providing improved aesthetics to the internals of the book, end papers or pastedowns also help to counteract the warp of the bookbinding board which happens during the drying stage of apply the cover material.
You will often only find end papers in hard-backed books.
Foot - The bottom edge of the text block.
Head - Top edge of the text block.
Headband & Tailbands– Headbands are coloured threads (normally mercerized cotton or silk) which are wrapped around a core of some sort (normally vellum backed with leather) and are then sewn through the signatures, filling space left between the spine and the book block. Their original purpose is to help lessen damage to the book when it is removed from a shelf by it's headcap. It also helps to some degree in keeping the sections upright. Headbands (and tailbands) are often referred to as endbands. Modern headbands are used for decorative purposes only and are normally glued to the top of the book block. In the 12th and early 13th centuries, headbands were combined with a leather tab. Conventional cloth or silk headbands came later in the 16th century.  
Hinge – The Hinge of a book is the section between the cover boards and the spine. It's the part that bends when the book is opened.
Joint - The Joint of a book is the small groove which runs vertically down the book itself between the book boards (book cover) and the spine. It bends when the book is opened and is only seen on hardcover books. Also called a French joint or French groove, groove, gully, channel, and outer joint.
Leaves – Two pages of a book (1 sheet) is referred to as a leaf, front ('recto') and back ('verso').
Raised Bands - Raised Bands were originally the result of cords (or thongs) used during the sewing process which were affixed to the signatures and used to hold the book covers on. Later on in the binding process the spine or backbone would be covered and the bands would be raised above the rest of the spine. This method of binding is less common today, as a result faux bands are used purely for decorative purposes.  
Signatures – Signatures are stacks of two or more pieces of paper which are folded and grouped together ready for sewing. Each of the signatures are bound together individually and later bound together as a whole forming the textblock.
You will only find signatures in hard cover books. Also sometimes referred to as gatherings.
Spine (textblock spine) – The spine is where the signatures and textblock are bound. Usually the spine will contain important book information so it can be easily found when up on the shelf in book stores or libraries, information might include the book's title, name of author and publishers name or logo. Also known as the back, and backbone.
A traditional sewn spine will usually be backed, glued and lined with cloth or paper.
Tail – The Tail is the bottom part of the book.
Title Page - At the front of a book (usually the first or second page), containing such important information as the author, title, and typically, the city where the book was published, the publisher, and date.
Top Edge - Head of the text block.
Wire Lines and Chain Lines – In the early days of paper making wet pulp was laid in a kind of wire mesh frame and the water was shaken out of it, the paper made using this process was called Laid Paper. The wide-spaced lines on the frame were known as chain lines and were typically spaced about 1 inch apart; the closer spaced lines perpendicular to the chainlines were called the wirelines and were typically about 1mm apart.  
On older books which used paper made via this technique you can visibly see the marks left by the wire and chain lines (see image to the right).
Today it is only very expensive paper which is made in this way, usually by hand.