Book Sizes
A-format - Generally a UK term.  Standard book format (TPS = 178 x 111mm or 7 1/64 x 4 3/8 inches), typically used for most small-format paperbacks.
B-format - Generally a UK term.  Standard book format (TPS = 197 x 130mm or 7 3/4 x 5 1/8 inches), slightly larger than A-format, typically used for more upmarket or literary paperbacks.
C-format - Generally a UK term. Mostly a large-format paperback, though there's no universal agreement on exact size (commonly it's Royal-sized, though it often means (TPS = 216 x 159mm or 8 1/2 x 6 17/64 inches).
Demy - (occasionally Demi) A standard book format (TPS = 216 x 135mm or 8 1/2 x 5 5/16 inches), usually hardback, often used for library edition hardbacks and more literary hardback fiction (cf trade paperback). Slightly smaller than the more common Royal format. Pronounced as in 'deny'.
Mass Market - Generally a US term but is increasingly applied to A-format paperbacks in the UK.  Small-format paperback edition of a book, usually commercial fiction, intended to sell in large numbers (TPS = 171mm x 105mm or 6 3/4 x 4 1/8 inches).  Slightly shorter and narrower than an A-format.
Rack size - US equivalent of A-format but slightly taller and narrower. Can also be termed mass market paperbacks. Usually (TPS = 197 x 106mm or 7 3/4 x 4 11/64 inches).
Royal - A standard book format (TPS = 234 x 153mm or 9 7/32 x 6 1/32 inches), usually hardback, used for most hardback fiction and general non-fiction. Slightly larger than Demy size. See also trade paperback.
Trade Paperback (TPB) - A large-format paperback, usually Royal or Demy size. In fiction publishing, a trade paperback version is often published after the hardback but before the main mass market paperback version. In Australia, a trade paperback is often published instead of a hardback. US: trade paperback is often used to mean what in the UK would be a B-format paperback, and contrasts with an rack-sized mass-market edition.
Book Condition Guidelines
New - Brand New Book. Never read.
Excellent - Used Book with nil or few minor defects or faults.
Very Good - Used Book showing some signs of wear. Minor creasing to spine.
Good - The average used book that is totally complete and intact. May have moderate creasing to spine. May have a remainder mark, bumped, minor tape repair and foxing
Fair - A worn used book that has complete text pages (including those with maps or plates) but may lack endpapers, half-title page, etc. May have substantial creasing to spine, remainder mark, bumped, tape repairs and foxing. May be ex-library.
Reading Copy - A used book that is sufficiently worn that its only merit is the complete text, which must be legible. May be soiled, scuffed, stained, spotted or bumped and may have loose  joints, hinges, pages, etc.  May be ex-library.
Please note that the images used on our site are intended as a guide only. Publishers can have various cover designs for each ISBN so images can change without notification.  Whilst we make every effort to show the correct cover design we are unable to guarantee the cover image that arrives from our suppliers.  If ordering a particular cover is important to you then please contact us for confirmation.  In particular, used books listed on this site may have minor blemishes on the cover that are obviously not depicted in the stock image of the listing. Please refer to the Book Condition Guidelines above when considering your purchase.  Please contact us if you are unsure.
Other Book Terms
Acid-free paper - Higher quality paper treated so it doesn't yellow as quickly as normal paper.  It yields a neutral or basic pH (7 or slightly greater).  The active acid pulp is eliminated during processing. It is also lignin- and sulfur-free.
Activity Book - generally aimed at children, which contains interactive content such as games, puzzles, quizzes, pictures to colour and other elements that involve writing or drawing in the book itself. The book may, or may not, have a loose narrative or contain other non-interactive elements structured around the interactive elements. Activity books may be made for entertainment, education or a mixture of both.  Specific types of activity books include colouring books and puzzle books. A book is normally referred to as an activity book if it combines a variety of interactive elements and does not fall neatly into one of these more specific categories.
Anthology - A collection of literary works which may be poems, short stories, plays, songs or excerpts generally by multiple authors.
Barcode - A conventional 'Bookland' barcode on a book has the ISBN printed above the stripes, with the EAN at the bottom. The barcode stripes actually represent the EAN, not the ISBN, and the barcode 'symbology' is EAN-13. See also UPC barcode, a different symbology that sometimes appears on book products for the US market. Why 'Bookland'? EANs typically have short prefixes that indicate the country of issue of the EAN (eg a 50 prefix indicates a British EAN – though it doesn't mean the item was manufactured in the UK). All ISBNs are by nature international, so a 978 prefix is used in the EAN to indicate a fictitious country called Bookland; 2) Other types of barcode (different symbologies) can appear on cartons containing multiple products, and on pallets, shipping labels etc, for example ITF-14 and EAN-128 barcodes.
Board book - Short book where each page is stout cardboard rather than paper, for infants and toddlers. See also rag book.
Book Plate - An ownership label, usually placed inside front cover. Many have become collectible due to the designer or owner; others actually lower the value of books printed in the last 50 or so years, especially book plates that can be purchased in batches of 50 or 100 and a space left for the owner's name to be penciled or inked-in.
Bumped - Refers to the corners or spine ends of a book that has been damaged by being dropped or carelessly handled or shelved.
Chapbook - Small, inexpensive books produced from the 17th century until today, originally sold by "chapmen", peddlers, and hawkers. Contents usually of a popular, sensational, juvenile, or moral / educational character.
Chapter Book - Fairly modern term referring to books for older children which are organized into chapters, as opposed to "picture books", which often are not.
Chipped - Small pieces broken off of a dust jacket or binding.
Closed Tear - A tear with no material missing. It could also mean a tear repaired and closed with Japanese tissue or other such type of paper used for page repairs in the trade.
Cocked - If, when looking down on the head of a book, the corners are not square it is said to be cocked or rolled. Also known as a spine slant. (Note: cocking can also involve a book's spine being slightly twisted or non-vertical at either end that is not severe enough to cause spine slant.)
Dampstain - A stain left on a cover or pages after having been exposed to water.
Ding - A small bump or dent leaving an impression, sometimes caused by careless handling or storage.
Dog-Eared - Worn or ragged, usually referring to the edges of pages. Corners of pages are turned down like a dog's ear, often to mark one's place while reading.
EAN - European Article Number. Now officially called the EAN.UCC. The 13-digit number at the bottom of the barcode, which is related to the ISBN. All EANs linked to ISBNs (ISBN-10s) start 978… – the 978 prefix identifies a so-called 'Bookland' EAN. Why? Because many other EAN prefixes identify countries. ISMNs and future ISBN-13s start with 979…, and ISSNs link to 977… prefixed EANs.
Edgeworn - Wear along the edges of hardback book covers.
Edition - A group of books printed without changes to the content (originally from a single set of printing plates). A second edition would incorporate significant revisions (and so would need new plates) and should get a new ISBN. Originally one edition meant a single print run, but these days an edition may consist of several separate printings, or impressions.
Erosion - Loss of paper or cloth caused by a slow and steady wear, as opposed to a chipping or tearing.
Ex-Library - (EXLIB) Deaccessioned from a Public Library or Collection.
Ex-Libris - From a private library, as opposed to a public library. Could also indicate a bookplate or a stamp.
Fading - The color of some book covers fade or become less intense when exposed to light.
Foxing - A term describing the age-related spots and browning seen on paper. Although it is a bit unsightly, foxing does not affect the actual integrity of the paper.
Hardcover or Hardback (HC, HB) - A book whose case is made of stiff boards, as opposed to wrappers.
Impression - A single print run of a book, as in 'third impression', the third batch of copies to be printed and bound. The impression number is usually marked on the copyright/imprint page, often with a sequence of numbers such as '4 6 8 10 9 7 5 3', where the lowest number indicates the impression (in this case, the third). All books in an impression are manufactured at the same time and are identical. There can be several impressions in an edition, all sharing the same ISBN.
Inscription - When an author or someone associated with the book signs and/or handwrites a dedication, etc.  e.g. "To my beloved Elizabeth, John Steinbeck"
ISBN - International Standard Book Number. Unique identifier for a book, or more specifically, of a tradeable item within the book trade. A different ISBN is required not only for each title (or work), but for each edition and binding (or manifestation) eg hardback, paperback, revised second edition all need different ISBNs. Different impressions, however, share the same ISBN. The first element (number) in a 10-digit ISBN or the second element (the number/s after the 978 or 979) in a 13-digit ISBN is the Identifier Group which is assigned to mark either a publisher's place of business or the language used for the book.  It is handy to know about this identifier so you don't buy a foreign language book by accident sight unseen.  The english language identifier is almost always a '0' or a '1' (e.g. 0-330-28498-3 or 978-0-330-28498-1).  Sometimes the book can be in english language with another country identifier such as '81'  for India but the listing should always advise that it is english language in these cases. The second element in a 10-digit ISBN or the third element in a 13-digit ISBN is the Publisher Code (e.g. 0-330-28498-3 or 978-0-330-28498-1) which is unique to a specific publisher.  It can be from 1 up to 7 digits with the title number making up the remainder of the ISBN except for the very last digit.  You can search the Global Register of Publishers with the Publisher Code or Name of the Publisher to find more details.  The very last digit in the ISBN is a check digit and is a form of redundancy check used for error detection, the decimal equivalent to a binary 'check bit'.  The ISBN Agency responsible for issuing ISBN numbers for Australia is Thorpe-Bowker.
ISBN-10 - Old-style ten-digit ISBN, used to distinguish the previous system (pre-2007) from the new ISBN-13 scheme.
ISBN-13 - Revamp of the ISBN numbering system introduced in January 2007, where the old-style ISBN-10 has been replaced with 13 digits, the new scheme is called ISBN-13 and starts with 978 or 979.
ISSN - International Standard Serial Number. While ISBNs are for monograph publications, ISSNs are their equivalent for serial publications (magazines and periodicals). See also EAN.
Loose - When a book has been read carelessly or too often, and has become loose and sloppy in its binding.
Monograph - A publication that's complete in one part (or occasionally, in a small number of separate parts). Individual books (or occasionally, series of books) are monographs. cf serial publication.
Omnibus Edition - Book containing more than one work by the same author.  Commonly two or more components have been previously published as separate books.
Open Tear - A tear that may have some material missing.
Out-of-Print (OP, OOP) - A book no longer available from the publisher. It is no longer being printed and no new copies remain available for sale.
Paperback (PPB, PB) or Softcover - A book bound with flexible paper covers; usually a term reserved for mass-market publications.
Perfect Binding - Used in paperback books, trade paperbacks and magazines that have too many pages to be stapled. The page edges are glued together, then placed in the covers. This is a less expensive process than traditional bookbinding and stapling.
Print on Demand (POD) - A process in which copies of a book are not printed until an order has been received, allowing books to be printed singly or in small quantities of between 1 to about 200 copies.
Provenance - (from the French provenir, 'to come from/forth') is the chronology of the ownership, custody or location of individual copies of books.
Rag book - Short book for infants and toddlers, where each page is printed on textile rather than paper. See also board book.
Reading Crease - A crease down the spine of a book (usually a paperback).
Recto - A right-hand page, when a book is open and facing the reader. The other side of the recto is the Verso.
Remainder - These books have been liquidated by the publisher at greatly reduced prices.  Copies of remaindered books are marked by the publisher or distibutor and have varied over the years.  Today most remainders are marked with a stroke with a felt-tipped marker across the top or bottom of the book's pages near the spine. 
Rubbed or Rubbing - Where color has been worn from portions of the binding or dust jacket. It is also used to indicate rubbed cloth covering the boards to the point where the material of which the boards are made is showing through.Wear caused to the edges of the book or dust jacket as a result of shelf friction.  See Shelf Wear.
Scuffed - Like rubbed, but more damage has occurred.
Series - Group of linked titles sharing a common series title (eg seven titles in C. S. Lewis' Chronicles of Narnia). Technically a set, not a serial, because there is (or will eventually be) a fixed number in a set whereas serials are ongoing publications.
Shelf Wear - The wear that occurs as a book is placed onto and removed from a shelf. It may be to the tail (bottom) edge of the covers as they rub against the shelf, to the dust jacket or exterior of the covers (when no dust jacket is present) as the book rubs against its neighbors, or to the head of the spine which some use to pull the book from the shelf.
Slipcase (SLC) - A box built to house and protect a book, leaving the spine exposed.
Soiling - A gathering of dust or dirt usually caused by handling.
Spine - The backbone, or back, of the book where the title (if present) is displayed when it is standing upright on a shelf.
Sticker Damage - A price sticker has been roughly removed resulting in surface damage to the underlying material.
Sunned or Sunning - Browning, yellowing, or fading of paper, dustjacket or binding as a result of sun exposure.  Faded from exposure to light or direct sunlight.
Tape Residue - Complications of cellophane tape that remains on the paper or a book's cover, resulting in brown stains or bits of tape adhering to paper.
TPS - Trimmed page size (also trim size and trimmed leaf size). The outer dimensions of a page of a finished book, so for A-format, 178 x 111mm.
Uncorrected Book Proof - Bound together with a thick paper cover, usually for promotion or publicity purposes.  Book proofs are generally uncorrected.  If largely corrected they are referred to as advance copies.
Verso - The left page of an open book, when it is open and facing the reader. The back of a leaf. Also called the reverse.
This information was mostly obtained from the Glossary of Book Publishing Terms at Harper Collins UK or from the book terminology of the Independent Online Booksellers Association
Helpful Links
First Editions - This link opens up the First Edition Points fedpo.com website on a new window for you. Learn all about how to spot a first editon.
Anatomy of a Book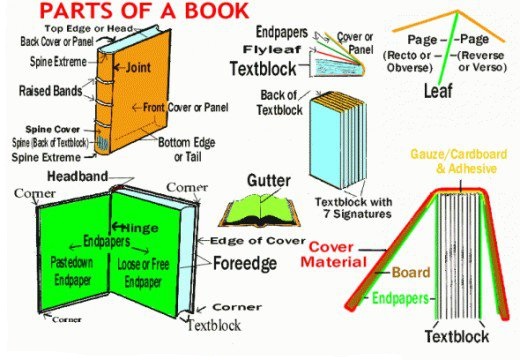 Backstrip - (Sometimes used as a synonym to Spine) A strip used by binder to reinforce the back of folded sheets in the binding of the spine.
Binding - Material used as a protective cover for a book (e.g.: leather, cloth, buckram, paper, etc.)
Book Block or Text block – The block of internal pages that make up the book.
Book Cover or Book Board - The front and back covers of books are often referred to as book covers or book boards or book panels as they are often made of bookbinding board and cover the book, today typically a cardboard base covered with cloth, paper, or leather.
Dust Jacket or Dust Wrapper or Book Jacket (DJ, DW) - First used during the 19th century, the original purpose of the dust jacket was to protect the cover of books from scratches and dust which could have been made from fine leather, linen cloth, silk or other expensive materials.  It wasn't until after World War I when booksellers and publishers realised the correlation between well designed book cover jackets and book sales, during this time an explosion of book cover designs hit the market.  Found only on hardcover books, the dust jacket will normally be made from paper or plastic (or plastic covered paper) with the ends of which wrapped inside the book cover.
Edges – The edges of the leaves and the textblock as a whole.  The three outer sides of the text block when a book is closed: fore-edge, top edge or head, and bottom edge or foot.  On more expensive books you will likely find the fore edge has been painted with a hidden painting (known as foredge painting or art) or has gilt edges (smoothed and painted, normally with gold leaf or gold paint).
End Paper (End Sheets) – Endpapers are the first and last pages of the book which which glued to the cover boards (front and back). Often these end papers will be of heavier weight and decoratively patterned often marbled with a cloth hinge for reinforcement. Often referred to as a pastedown or end sheets; paste-down is the page which has been glued to the board and the other side is known as a free endpaper
Other than providing improved aesthetics to the internals of the book, end papers or pastedowns also help to counteract the warp of the bookbinding board which happens during the drying stage of apply the cover material.
You will often only find end papers in hard-backed books.
Foot - The bottom edge of the text block.
Head - Top edge of the text block.
Headband & Tailbands– Headbands are coloured threads (normally mercerized cotton or silk) which are wrapped around a core of some sort (normally vellum backed with leather) and are then sewn through the signatures, filling space left between the spine and the book block. Their original purpose is to help lessen damage to the book when it is removed from a shelf by it's headcap. It also helps to some degree in keeping the sections upright. Headbands (and tailbands) are often referred to as endbands. Modern headbands are used for decorative purposes only and are normally glued to the top of the book block. In the 12th and early 13th centuries, headbands were combined with a leather tab. Conventional cloth or silk headbands came later in the 16th century.  
Hinge – The Hinge of a book is the section between the cover boards and the spine. It's the part that bends when the book is opened.
Joint - The Joint of a book is the small groove which runs vertically down the book itself between the book boards (book cover) and the spine. It bends when the book is opened and is only seen on hardcover books. Also called a French joint or French groove, groove, gully, channel, and outer joint.
Leaves – Two pages of a book (1 sheet) is referred to as a leaf, front ('recto') and back ('verso').
Raised Bands - Raised Bands were originally the result of cords (or thongs) used during the sewing process which were affixed to the signatures and used to hold the book covers on. Later on in the binding process the spine or backbone would be covered and the bands would be raised above the rest of the spine. This method of binding is less common today, as a result faux bands are used purely for decorative purposes.  
Signatures – Signatures are stacks of two or more pieces of paper which are folded and grouped together ready for sewing. Each of the signatures are bound together individually and later bound together as a whole forming the textblock.
You will only find signatures in hard cover books. Also sometimes referred to as gatherings.
Spine (textblock spine) – The spine is where the signatures and textblock are bound. Usually the spine will contain important book information so it can be easily found when up on the shelf in book stores or libraries, information might include the book's title, name of author and publishers name or logo. Also known as the back, and backbone.
A traditional sewn spine will usually be backed, glued and lined with cloth or paper.
Tail – The Tail is the bottom part of the book.
Title Page - At the front of a book (usually the first or second page), containing such important information as the author, title, and typically, the city where the book was published, the publisher, and date.
Top Edge - Head of the text block.
Wire Lines and Chain Lines – In the early days of paper making wet pulp was laid in a kind of wire mesh frame and the water was shaken out of it, the paper made using this process was called Laid Paper. The wide-spaced lines on the frame were known as chain lines and were typically spaced about 1 inch apart; the closer spaced lines perpendicular to the chainlines were called the wirelines and were typically about 1mm apart.  On older books which used paper made via this technique you can visibly see the marks left by the wire and chain lines (see image to the right).  Today it is only very expensive paper which is made in this way, usually by hand.
Other Interesting Book Terms
Biblichor is the word that describes the particular smell that belongs to old books. Biblichor is a word that combines the Greek words biblio (book) with ichor (the fluid that flows like blood in the veins of the gods), much the way petrichor was created. Like petrichor, biblichor describes a very distinct fragrance that somehow inhabits one's very soul when they encounter it.
Bibliotherapy - (also referred to as poetry therapy or therapeutic storytelling) is a creative arts therapies modality that involves storytelling or the reading of specific texts with the purpose of healing. It uses an individual's relationship to the content of books and poetry and other written words as therapy. Bibliotherapy is often combined with writing therapy. It has been shown to be effective in the treatment of depression. A 3 year follow up study has suggested that the results are long-lasting.
Vellichor - The strange wistfulness of used bookstores, which are somehow infused with the passage of time – filled with thousands of old books you'll never have time to read, each of which is itself locked in its own era, bound and dated and papered over like an old room the author abandoned years ago, a hidden annex littered with thoughts left just as they were on the day they were captured." - The Dictionary of Obscure Sorrows
ψῡχῆς ἰατρεῖον - Considered to be the oldest known library motto in the world.  According to the Greek historian Diodorus Siculus, in his monumental work Bibliotheca historica, it was a phrase above the entrance to the royal chamber where books were stored by King Ramses II of Egypt. translated: "The house of healing for the soul".
Book and Reading Slogans
A citizen's door to lifelong learning.
Books can be dangerous, the best ones should be labeled, "This could change your life."
Books are keys to the past ... Gateway to the future.
Building our future. Page by page.
Cutting libraries in a recession is like cutting hospitals in a plague.
Don't judge a book by its cover.
Go anywhere. Learn anything. Read every day.
I Like Big Books and I Cannot Lie.
It's Book O'Clock.
New ideas arriving daily.
Read Between the Wines.
Stacks of inspiration.
Take your dreams off the shelf.
The last word in books.
To Read, Or Not To Read…Not Even a Question.
We are all on the same page.
We have all the best stories.
We lose ourselves in books, we find ourselves there too.
What's your story?
Words take you places.
You're bound to find more.
You're only one book away from a good mood.
Bookish Quotes
"A book is a gift you can open again and again." – Garrison Keillor
"A children's story that can only be enjoyed by children is not a good children's story in the slightest." ― C.S. Lewis
"A reader lives a thousand lives before he dies . . . The man who never reads lives only one." – George R.R. Martin
"A room without books is like a body without a soul." ― Marcus Tullius Cicero
"Books are a uniquely portable magic." – Stephen King
"Books are good company, in sad times and happy times, for books are people – people who have managed to stay alive by hiding between the covers of a book." – E.B. White
"Books are not made for furniture, but there is nothing else that so beautifully furnishes a house." – Henry Ward Beecher
"Books are the quietest and most constant of friends; they are the most accessible and wisest of counselors, and the most patient of teachers." ― Charles W. Eliot
"Books to the ceiling, Books to the sky, My pile of books is a mile high. How I love them! How I need them! I'll have a long beard by the time I read them." – Arnold Lobel
"Children are made readers on the laps of their parents." – Emilie Buchwald
"Fill your house with stacks of books, in all the crannies and all the nooks." – Dr. Seuss
"I find television very educating. Every time somebody turns on the set, I go into the other room and read a book." – Groucho Marx
"If you don't like to read, you haven't found the right book." – J.K. Rowling
"In the case of good books, the point is not to see how many of them you can get through, but rather how many can get through to you." – Mortimer J. Adler
"No entertainment is so cheap as reading, nor any pleasure so lasting." – Mary Wortley Montagu
"Reading is a discount ticket to everywhere." – Mary Schmich
"Reading is essential for those who seek to rise above the ordinary." – Jim Rohn
"Show me a family of readers, and I will show you the people who move the world." – Napoléon Bonaparte
"Some books leave us free and some books make us free." – Ralph Waldo Emerson
"So please, oh please, we beg, we pray, go throw your TV set away, and in its place you can install a lovely bookshelf on the wall." – Roald Dahl
"The love of learning, the sequestered nooks, and all the sweet serenity of books" ― Henry Wadsworth Longfellow
"The more that you read, the more things you will know. The more that you learn, the more places you'll go." – Dr. Seuss
"The person who deserves most pity is a lonesome one on a rainy day who doesn't know how to read." – Benjamin Franklin
"There are worse crimes than burning books. One of them is not reading them." – Joseph Brodsky
"There is no friend as loyal as a book." ― Ernest Hemingway
"Think before you speak. Read before you think." – Fran Lebowitz
"Today a reader, tomorrow a leader." – Margaret Fuller
"Until I feared I would lose it, I never loved to read. One does not love breathing." – Harper Lee
"Words dazzle and deceive because they are mimed by the face. But black words on a white page are the soul laid bare." ― Guy de Maupassant
"You don't have to burn books to destroy a culture. Just get people to stop reading them." – Ray Bradbury
"You know you've read a good book when you turn the last page and feel a little as if you have lost a friend." – Paul Sweeney
"You may have tangible wealth untold. Caskets of jewels and coffers of gold. Richer than I you can never be — I had a mother who read to me." – Strickland Gillilan
Patron Saints
Saint John of God - Patron Saint of booksellers - O.H. (March 8, 1495 – March 8, 1550) (Portuguese: João de Deus, Spanish: Juan de Dios, and Latin: Joannis de Deo) was a Portuguese-born soldier turned health-care worker in Spain, whose followers later formed the Brothers Hospitallers of Saint John of God, a worldwide Catholic religious institute dedicated to the care of the poor, sick, and those suffering from mental disorders. He has been canonized by the Catholic Church, and is considered one of Spain's leading religious figures.  John was canonized by Pope Alexander VIII on October 16, 1690, and later named the patron saint of hospitals, the sick, nurses, firefighters, alcoholics, and booksellers. His feast day is celebrated on March 8. A church was erected in 1757 to house his remains. On October 26, 1757, they were transferred to that church, now protected by the Knights of Saint John of God. The church has been raised to the rank of a basilica.
Saint Catherine of Alexandria - Patron Saint of Librarians - also known as Saint Catherine of the Wheel and The Great Martyr Saint Catherine - Greek: ἡ Ἁγία Αἰκατερίνη ἡ Μεγαλομάρτυς "Holy Catherine the Great Martyr"; Latin: Catharina Alexandrina), is, according to tradition, a Christian saint and virgin, who was martyred in the early 4th century at the hands of the pagan emperor Maxentius. According to her hagiography, she was both a princess and a noted scholar, who became a Christian around the age of 14, converted hundreds of people to Christianity, and was martyred around the age of 18. More than 1,100 years after Catherine's martyrdom, Joan of Arc identified her as one of the saints who appeared to and counselled her.
Saint Christopher - Patron Saint of Bookbinders - (Greek: Ἅγιος Χριστόφορος, Ágios Christóforos) is venerated by several Christian denominations as a martyr killed in the reign of the 3rd-century Roman Emperor Decius (reigned 249–251) or alternatively under the Roman Emperor Maximinus II Dacian (reigned 308–313). There appears to be confusion due to the similarity in names "Decius" and "Dacian". However his veneration only appears late in Christian tradition, and did not become widespread in the Western Church until the Late Middle Ages, although churches and monasteries were named after him by the 7th century.  St. Christopher is a widely popular saint, especially revered by athletes, mariners, ferrymen, and travelers. He is revered as one of the Fourteen Holy Helpers. He holds patronage of things related to travel and travelers — against lightning and pestilence — and patronage for archers; bachelors; boatmen; soldiers; bookbinders; epilepsy; floods; fruit dealers; fullers; gardeners; a holy death; mariners; market carriers; motorists and drivers; sailors; storms; surfers; toothache; mountaineering; and transportation workers.
Saint John Bosco - Patron Saint of Printers and Publishers - (Italian: Giovanni Melchiorre Bosco; 16 August 1815 – 31 January 1888), popularly known as Don Bosco[ˌdɔm ˈbɔsko], was an Italian Roman Catholic priest, educator and writer of the 19th century. While working in Turin, where the population suffered many of the ill-effects of industrialization and urbanization, he dedicated his life to the betterment and education of street children, juvenile delinquents, and other disadvantaged youth. He developed teaching methods based on love rather than punishment, a method that became known as the Salesian Preventive System.  Following his beatification in 1929, he was canonized as a saint in the Roman Catholic Church by Pope Pius XI in 1934.
Saint Lawrence or Laurence (Latin: Laurentius, lit. "laurelled"; 31 December AD 225 – 10 August 258) was one of the seven deacons of the city of Rome, Italy, under Pope Sixtus II who were martyred in the persecution of the Christians that the Roman Emperor Valerian ordered in 258.  Due to his conspiring to hide and protect the written documents of the Church, Lawrence is known as the patron saint of archivists and librarians.
Patron Gods
Anansi (/əˈnɑːnsi/ ə-NAHN-see) is an Akan folktale character. He often takes the shape of a spider and is considered to be the spirit of all knowledge of stories. Taking the role of trickster, he is also one of the most important characters of West African, African American and Caribbean folklore.
Nabu - is the ancient Mesopotamian patron god of literacy, the rational arts, scribes and wisdom. Nabu was worshipped by the Babylonians and the Assyrians. Nabu was known as Nisaba in the Sumerian pantheon and gained prominence among the Babylonians in the 1st millennium BC when he was identified as the son of the god Marduk.  Nabu's symbol was a stylus resting on a tablet.  His wife was the Akkadian goddess Tashmet.  Nabu was the patron god of scribes, literacy, and wisdom. He was also the inventor of writing, a divine scribe, and the patron god of the rational arts.  As the god of writing, Nabu inscribed the fates assigned to men and he was associated with the scribe god Ninurta. As an oracle he was associated with the Mesopotamian moon god Sin.  Nabu wore a horned cap, and stood with his hands clasped in the ancient gesture of priesthood. He rode on a winged dragon known as Sirrush that originally belonged to his father Marduk.  In the Bible, Nabu is mentioned as Nebo in Isaiah 46:1 and Jeremiah 48:1. In Hellenistic times, Nabu was identified with the Greek god Apollo.  As the god of wisdom, Nabu was linked by the Romans with Mercury and by the Egyptians with Thoth.
Ogma (modern spelling: Oghma) is a god from Irish mythology and Scottish mythology. A member of the Tuatha Dé Danann, he is often considered a deity and may be related to the Gallic god Ogmios. According to legend, he is the inventor of Ogham, the runic language in which Irish Gaelic was first written.
Papa Legba is a loa in Haitian Vodou, who serves as the intermediary between the loa and humanity. He stands at a spiritual crossroads and gives (or denies) permission to speak with the spirits of Guinee, and is believed to speak all human languages. In Haiti, he is the great elocutioner. Legba facilitates communication, speech, and understanding. He is commonly associated with dogs.
Saraswati (Sanskrit: सरस्वती, IAST: Sarasvatī) is the Hindu goddess of knowledge, music, art, wisdom, and learning. She is a part of the trinity (Tridevi) of Saraswati, Lakshmi, and Parvati. All the three forms help the trinity of Brahma, Vishnu, and Shiva to create, maintain, and regenerate the Universe, respectively.
Seshat, under various spellings, was the ancient Egyptian goddess of wisdom, knowledge, and writing. She was seen as a scribe and record keeper, and her name means she who scrivens (i.e. she who is the scribe), and is credited with inventing writing.  Mistress of the House of Books is another title for Seshat, being the deity whose priests oversaw the library in which scrolls of the most important knowledge were assembled and spells were preserved.
Tir or Tiur (Armenian: Տիր) was the god of written language, schooling, rhetoric, wisdom, and the arts worshiped in ancient Armenia.
Thoth (/θoʊθ, toʊt/; from Koinē Greek: Θώθ thṓth, the reflex of Ancient Egyptian: ḏḥwtj "[He] is like the Ibis") is one of the ancient Egyptian deities. In art, he was often depicted as a man with the head of an ibis or a baboon, animals sacred to him. His feminine counterpart was Seshat, and his wife was Ma'at. He was the god of wisdom, writing, hieroglyphs, science, magic, art, judgment, and the dead.
Wenchang Wang (Chinese: 文昌王), also known as Wenchang Dijun (文昌帝君), is a Taoist deity in Chinese Mythology, known as the God of Culture and Literature. He is also at times referred to simply as Wen Qu, or Wen. The literal translation of his name would be King (王) of Flourishing (昌) Culture/Language (文). Wenchang Wang is physically represented by a constellation of six stars near the Big Dipper.
Celebration Days for Book Lovers
2 April - International Children's Book Day - International Children's Book Day is a yearly event sponsored by the International Board on Books for Young People, an international non-profit organization. Founded in 1967, the day is observed on Hans Christian Andersen's birthday, April 2.
23 April - St George's Day - also World Book Day - The tradition on this day is the exchange of roses and books between sweethearts, loved ones and colleagues.  Historically, men give women roses, and women give men a book to celebrate the occasion – "a rose for love and a book forever."
30 July - Paperback Book Day - One of the things that led to lighter books being developed was the commonality of the railway. The first paperback books were aimed at railway passengers as they were less expensive and easier to carry.  There's still just nothing quite as satisfying as holding a book in your arms and curling yourself around it on a quiet evening. Paperback Book Day honors and exalts this practice of comfort and leisurely days.
10 August - Love Your Bookshop Day - To recognise and celebrate the special role that books and bookselling play in society.  A chance to celebrate what makes your local bookshop great.
August - CBCA Book Week (Children's Book Council of Australia) - Each year, schools and public libraries across Australia spend a week celebrating books, and Australian authors and illustrators. Teachers and librarians conduct activities relating to a theme to highlight the importance of reading.
2 September - Indigenous Literacy Day - A national celebration of Indigenous culture, stories, language and literacy.
8 September - International Literacy Day - Declared by UNESCO on 26 October 1966 at the 14th session of UNESCO's General conference. It was celebrated for the first time in 1967. Its aim is to highlight the importance of literacy to individuals, communities and societies.
19 September - Australian Reading Hour - All Australians are concouraged on this day to pick up a book and read for one hour on your own or with the children in your life
Book Curses
A book curse was a widely employed method of discouraging the thievery of manuscripts during the medieval period. The use of book curses dates back much further, to pre-Christian times, when the wrath of gods was invoked to protect books and scrolls. Usually invoking threat of excommunication, or anathema, the more creative and dramatic detail the better. Generally located in the first or last page of a volume as part of the colophon, these curses were often considered the only defense in protection of highly coveted books and manuscripts. This was notably a time in which people believed in curses, which was critical to its effect, thus believing that, if a person stole or ripped out a page, they were destined to die an agonizing death.
"If anyone take away this book, let him die the death; let him be fried in a pan; let the falling sickness and fever seize him; let him be broken on the wheel, and hanged. Amen."  Found at the end of a bible written around the year 1172.
"Steal not this book my honest friend; For fear the gallows should be your end. And when you die the Lord will say; And where's the book you stole away?
"May the sword of anathema slay, If anyone steals this book away."
"The finished book before you lies; This humble scribe don't criticize. Whoever takes away this book; May he never on Christ look. Whoever to steal this volume durst; May he be killed as one accursed.  Whoever to steal this volume tries, out with his Eyes, out with his eyes!" From a 13th century manuscript kept at the Vatican Library.